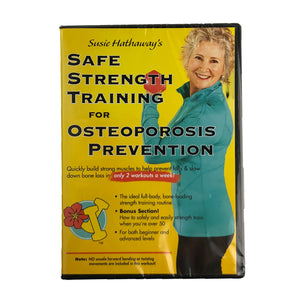 Safe Strength Training for Osteoporosis Prevention – DVD
Regular price
$19.95
$0.00
The Safe Strength Training for Osteoporosis Prevention DVD,  featuring Susie Hathaway, American College of Sports Medicine certified personal trainer, contains a 50-minute full-body bone-loading workout, plus a BONUS 40-minute step-by-step coaching section on how to safely and easily strength train when you are over fifty.
Safety precautions are included for those with bone loss
No unsafe forward bending or twisting exercises are included in the workout
Beginners use lighter dumbbells and advanced exercisers use heavier dumbbells and ankle weights
Complete instructions are included on how to quickly build strong muscles to help slow down bone loss and prevent falls
Workout includes:
5-minute weight-bearing aerobic warm-up
20 strength training exercises
Stretches between exercises
5-minute stretching cool-down
Equipment needed:
Light dumbbells, progressing to heavier dumbbells as strength increases
Optional ankle weights as strength increases
BONUS Coaching Session includes:
Safety tips for those over fifty and those with bone loss
Equipment selection
Proper strength training technique for effective results
Appropriate intensity levels for beginner to advanced
Benefits of strength training for bone strength
NOTE: This workout is not for those who are already frail, have trouble standing, or getting down on the floor.  Always check with your health care provider before beginning any new exercise program.
---
More from this collection